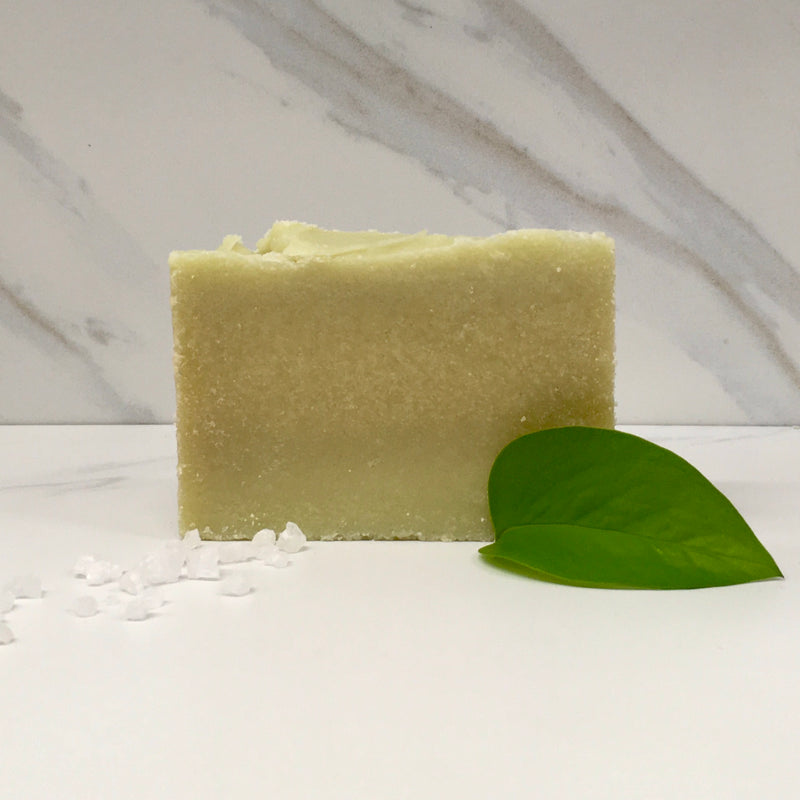 Lime Cilantro Salt Bar, Goat-Milk Soap
In stock
Simply Eden
Tag:
cilantro lime,
citrus,
Goat milk Soap,
handmade goat milk soap,
paraben free,
phthalate free
Craving a crisp, salty and sweet margarita? Take our Lime Cilantro Goat-Milk Soap in the shower and transport yourself to Margaritaville. This soap is a refreshing combination of Lime and Cilantro for an oh-so cool feeling. 5.25 oz.
Salt bars have many benefits for you and your skin! Naturally detoxing, the salt in this soap helps to draw out impurities in the skin. This is great if you struggle to control acne or other blemishes anywhere on the body. And don't let the word salt scare you away, we promise this is not a soap that will dry out your skin! Since adding salt to soap makes the bar crumble, we add lots of coconut oil and shea butter to make sure it stays in tact, which also gives it a rich and creamy lather. With the added goats milk, our salt bars are going to leave your skin feeling luxurious! 
Ingredients: Coconut oil, Olive oil, Shea Butter & Castor Oil. Great Salt Lake Sea Salt, Granulated Salt, Goat Milk, Fragrance, Mica. 
No added Parabens, Phthalates, or Sulfates ever!
Look for this scent in our other products
Order and Shipping Confirmation
You will receive an email confirmation once your order has been successfully placed–it will include your order number and shipping method. Please make sure your shipping address is correct as we are unable to redirect goods once they are on route to you. Orders can take up to 2 business days to be processed and shipped. Once your order is prepared for shipment you will receive a shipping confirmation email with your tracking information. Please note that monogrammed items take up to four weeks to ship, no matter what shipment type is chosen. Please also note that in some cases, your order may arrive in multiple shipments (i.e., in the case of pre-order, backorder, and monogrammed/personalized items).
Where We Ship
We currently ship to U.S. addresses including Alaska, Hawaii and U.S. Territories. We do not ship to PO Boxes/APO/FPO addresses. We now ship to Canada, the United Kingdom, France, Germany and Italy and we are working on expanding to other countries soon. Please note, not all items can ship to all countries. Non-US shipping eligibility is indicated on the item detail page. Thank you so much for your patience as we expand our international presence.