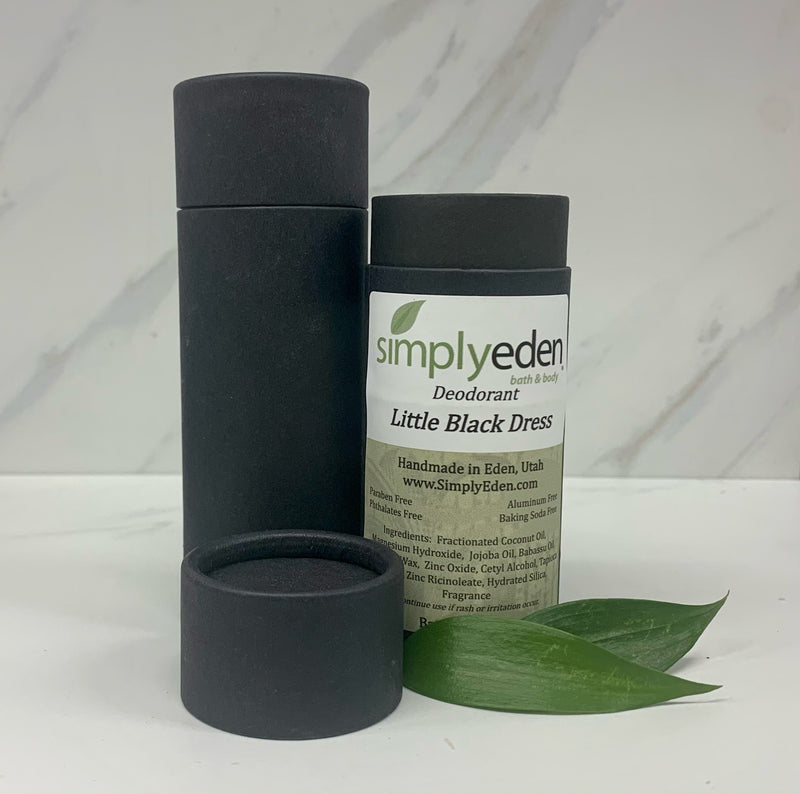 Little Black Dress Deodorant
In stock
Simply Eden Bath & Body
Tag:
Deodorant,
Little Black Dress,
natural deodorant
Little Black Dress Deodorant - Think strappy sandals and slink dress with this hot new scrub!  This screams sexy with top notes of vanilla bean with hints of vetiver, amber and musk, touched with sandalwood, black rose, blood orange and a hint of patchouli.  Seriously fitting for the Perfect Man, too!
Our new deodorant is in a large 3-oz paperboard tube in order to minimize plastics in our landfills!  Aluminum Free.  Baking Soda Free. Paraben Free. Phthalates Free.  3 oz.
Ingredients: Fractionated Coconut Oil, Magnesium Hydroxide, Jojoba Oil, Babassu Oil, Candelilla Wax, Zinc Oxide, Cetyl Alcohol, Tapioca Starch, Zinc Ricinoleate, Hydrated Silica, Fragrance.
Look for this scent in our other products
Order and Shipping Confirmation
You will receive an email confirmation once your order has been successfully placed–it will include your order number and shipping method. Please make sure your shipping address is correct as we are unable to redirect goods once they are on route to you. Orders can take up to 2 business days to be processed and shipped. Once your order is prepared for shipment you will receive a shipping confirmation email with your tracking information. Please note that monogrammed items take up to four weeks to ship, no matter what shipment type is chosen. Please also note that in some cases, your order may arrive in multiple shipments (i.e., in the case of pre-order, backorder, and monogrammed/personalized items).
Where We Ship
We currently ship to U.S. addresses including Alaska, Hawaii and U.S. Territories. We do not ship to PO Boxes/APO/FPO addresses. We now ship to Canada, the United Kingdom, France, Germany and Italy and we are working on expanding to other countries soon. Please note, not all items can ship to all countries. Non-US shipping eligibility is indicated on the item detail page. Thank you so much for your patience as we expand our international presence.