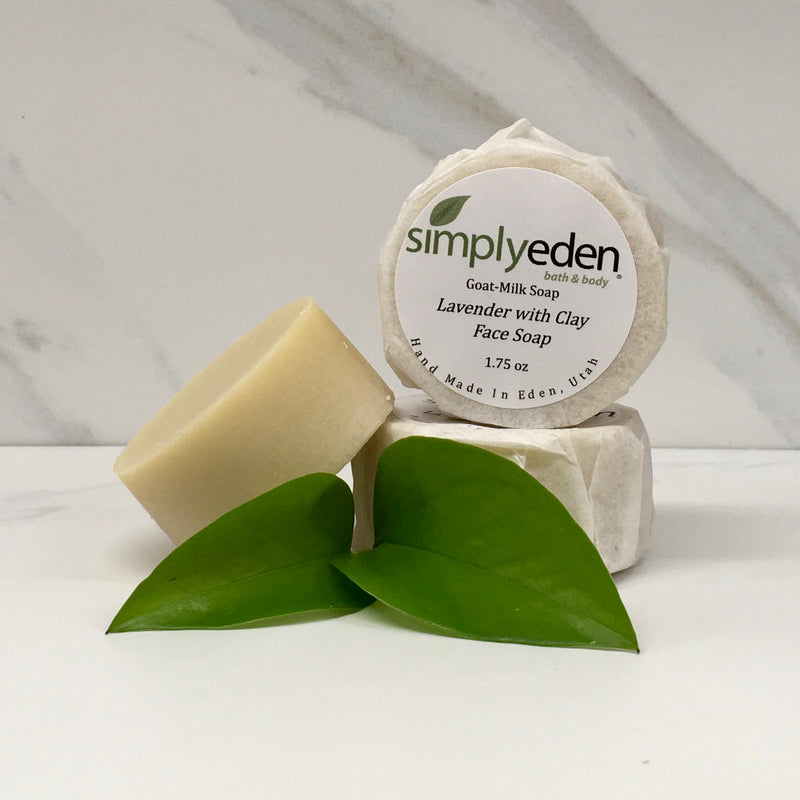 Face Soap, Lavender with Clay
In stock
Simply Eden
Tag:
eden utah,
Face Soap,
handmade goat milk soap,
lavender Soap,
natural soap,
paraben free
Face Soap, Lavender with Clay is my most sought-after soap and simply AWESOME on most skin types!  I have a hard time even keeping this in stock.
Lavender essential oil is used for its calming effects on the skin. Bentonite clay is known for its ability to draw toxins and excess oil from the skin. This is naturally colored from the Bentonite green clay and has been used successfully on most skin types. 1.75 oz.
Ingredients: Saponified Coconut Oil, Olive Oil, Avocado Oil, & Rice Bran Oil; Goat Milk, Lavender Essential Oil, & Bentonite Clay.
Testimonials:  
"In just the four days that I have been using the Lavender w/clay facial soap & Simply Radiant Face Cream, the red spots and acne spots that weren't going away, are either gone completely or barely visible  and on their way to being gone.  Thank you SOOOO much for making these products!  I am in love!"  Nicole in California
Order and Shipping Confirmation
You will receive an email confirmation once your order has been successfully placed–it will include your order number and shipping method. Please make sure your shipping address is correct as we are unable to redirect goods once they are on route to you. Orders can take up to 2 business days to be processed and shipped. Once your order is prepared for shipment you will receive a shipping confirmation email with your tracking information. Please note that monogrammed items take up to four weeks to ship, no matter what shipment type is chosen. Please also note that in some cases, your order may arrive in multiple shipments (i.e., in the case of pre-order, backorder, and monogrammed/personalized items).
Where We Ship
We currently ship to U.S. addresses including Alaska, Hawaii and U.S. Territories. We do not ship to PO Boxes/APO/FPO addresses. We now ship to Canada, the United Kingdom, France, Germany and Italy and we are working on expanding to other countries soon. Please note, not all items can ship to all countries. Non-US shipping eligibility is indicated on the item detail page. Thank you so much for your patience as we expand our international presence.