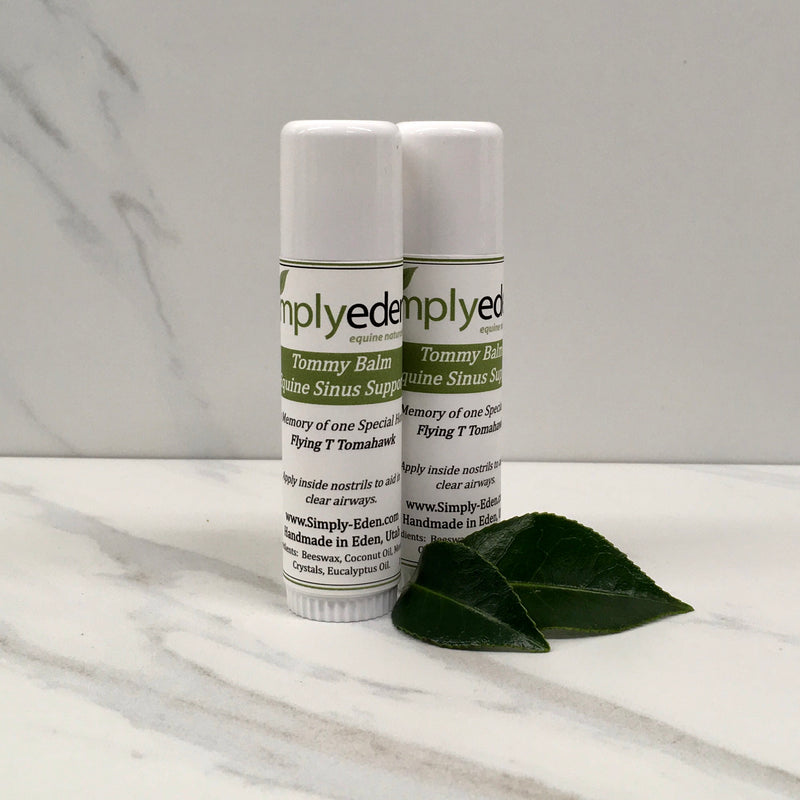 Tommy Balm Sinus Support
Unavailable
Simply Eden
Tag:
breath aid,
equine,
Equine Naturals,
eucalyptus balm,
flying t tomahawk,
menthol balm
Tommy Balm Sinus Support is inspired by one Special Horse, Flying T Tomahawk.  Our all-natural balm is rubbed on topically to nose, throat and chest, helping to clear airways before performing in dusty conditions.  This is a topical balm, not an ingested drug, safe and natural.
A beloved and special horse, who overcame all odds to run again. "Tommy's" health was the #1 priority for Sierra, who did everything to keep him healthy, happy and enjoying his job.  In return, Tommy gave 100% every single run, winning professional rodeos at the age of 19, until he passed away while still competing.  
The Tommy Balm is a version of Sierra's homemade potion that she used on Tomahawk before every single run.  Eucalyptus Oil and Coconut oil is what she used to rub on nose, throat and chest to help her horses breathe better.  Our natural balm, in an easy-to-use applicator, saves your hands from getting messy before competing and gives your horse a clear airway while running in dusty rodeo conditions.
Ingredients:  Coconut Oil, Beeswax, Menthol & Eucalyptus Oil.  1/2 oz.
In Memory Of Flying T Tomahawk
 
Order and Shipping Confirmation
You will receive an email confirmation once your order has been successfully placed–it will include your order number and shipping method. Please make sure your shipping address is correct as we are unable to redirect goods once they are on route to you. Orders can take up to 2 business days to be processed and shipped. Once your order is prepared for shipment you will receive a shipping confirmation email with your tracking information. Please note that monogrammed items take up to four weeks to ship, no matter what shipment type is chosen. Please also note that in some cases, your order may arrive in multiple shipments (i.e., in the case of pre-order, backorder, and monogrammed/personalized items).
Where We Ship
We currently ship to U.S. addresses including Alaska, Hawaii and U.S. Territories. We do not ship to PO Boxes/APO/FPO addresses. We now ship to Canada, the United Kingdom, France, Germany and Italy and we are working on expanding to other countries soon. Please note, not all items can ship to all countries. Non-US shipping eligibility is indicated on the item detail page. Thank you so much for your patience as we expand our international presence.